BIENVENUE SUR LE BLOG DE DINDON CANADIEN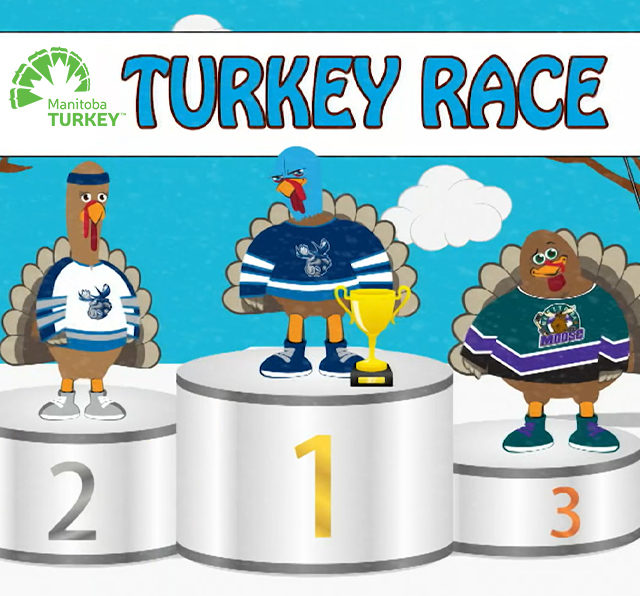 The Manitoba Turkey Race is Back!
That's right, you heard it! We partnered with Exceldor Cooperative brands Butterball & Granny's Poultry to bring back the famous Manitoba Turkey Race for the Manitoba Moose 2021-2022 season. We can't wait to watch Tomas, Gwendolyn & Herb battle it out once again on the big screen race track during each home game of the Manitoba Moose.
Similar to previous years, a random audience member is chosen from the crowd and asked to choose one of three Manitoba turkeys on the big screen that they think would win the animated turkey race. The race plays out on the score clock and, win or lose, they win a prize basket filled with goodies from Manitoba Turkey Producers, Butterball and Granny's Poultry. This year's prize package includes:
1 x $25 gift certificate (Granny's OR Butterball)
1 x Digital Meat Thermometer
1 x Pair of Oven Mitts – 1 left & 1 right
1 x Insulated Grocery Bag
1 x Jar Gripper
1 x "Think Turkey" Stress Reliever Drumstick
2 x Recipe Booklets
Want a chance to play and experience our turkey race? Grab your tickets to a Manitoba Moose Home Game today by clicking here.