BIENVENUE SUR LE BLOG DE DINDON CANADIEN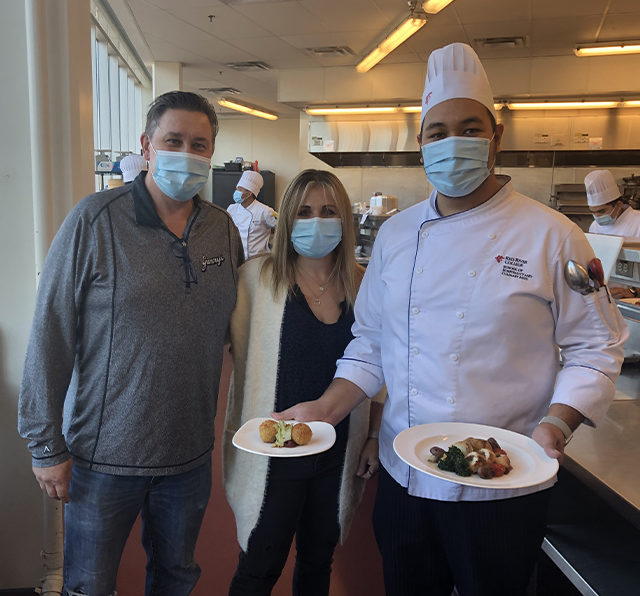 Red River College Iron Chef Turkey Competition 2021
On Saturday, November 27th, eight Culinary Arts students from Red River College Polytech School of Hospitality and Culinary Arts competed in the Manitoba Turkey Producers and Granny's Poultry Iron Chef Turkey Cook-off! The competition was held from 8 am to 12 pm at the Paterson Global Foods Institute in Winnipeg.
Unlike typical black box competitions, the students have many products, ingredients and spices at their fingertips to create a wide range of dishes. This year the students had just over three hours to choose from either Granny's Boneless, Skinless Turkey Breast, Granny's Turkey Thighs and Granny's Fresh Whole Turkey to use in an appetizer and entree where Manitoba-raised turkey was the star of the plate.
With no time to waste, the students were off and started creating their dishes. All students showed off their many talents – such as their knife skills – but also their passion for cooking throughout the entire allocated time. While the turkey was being sliced and diced, the judges were preparing next door and waiting to receive their first dishes to critique.
The judges this year were Chef Michael Fitzhenry (Red River College Instructor), Barclay & Shelley Uruski (Manitoba turkey farmers) and Stephany Opyc (Exceldor Cooperative). Everyone used the same rubric to judge the dishes for creativity, execution, presentation and taste. Before long, the first set of turkey appetizers arrived from the kitchen.
Plated with a five-star presentation, the appetizer round had several different inventive takes. Turkey Potstickers, Mini Turkey Pot Pies, Open-faced Turkey Tacos, and a couple of Turkey Skewers came from the kitchen and filled the room with irresistible aromas. Before long, the mouth-watering entries followed. Many delectable combinations of Stuffed Turkey Breast were featured along with Turkey and Waffles and Turkey Cutlets.
After the chefs cleaned their kitchen space and after much deliberation between the judges, the top three students were chosen:
For the tight race of third place, Aldwin took the bronze who prepared a Turkey Croquette with a Blueberry Cranberry Sauce as his appetizer and then served up turkey two ways as the entree. First was a Bacon Wrapped Turkey Breast with Cranberry and Sage and the second was Ground Turkey with Mushroom that was Dark Braised. All this turkey was served up with broccoli, honey carrots and duchess potatoes.
Second place was Christion who served the judges his Turkey Chowder with Frizzled Leek and Smoked Paprika. He then feature an irresistibly Creamy Cranberry Orange and Goat Cheese Turkey Breast Roulade that was paired with maple Brussel spouts, beat chips and roasted garlic mashed potatoes.
And… drum roll please… first place went to Cesar who swept the competition with his Crusted Turkey Meatball that was stuffed with Swiss Cheese. It was also paired with a walnut celery slaw and apple chutney. The entree was a Cranberry Raisin Turkey with Chasseur Sauce that was paired with broccoli amandine, mushrooms, tomatoes and pave potatoes.
| | | | |
| --- | --- | --- | --- |
| | First Place – Cesar | Second Place – Christion | Third Place – Aldwin |
All students went home with a gift basket loaded with goodies but the top three will be awarded $1,000.00, $750.00, and $500.00 all from Manitoba Turkey Producers and Granny's Poultry. This joint competition has been hosted at the College now for over 10 years and judging is never easy. "This was the hardest year and it was so close," Shelly mentioned to the students. It was the closest competition so far and remarks were made about how talented all the young chefs were.
This competition has always been a great success and this year it couldn't have been done without Chef Karl Oman. Chef Karl is a Red River College instructor and was the organizer of the competition who was able to provide his students with the opportunity to practice their culinary skills and earn a sweet reward. Students also had the opportunity to show off their creativity in inspired dishes – all of which feature a versatile, locally raised protein that incorporates into a multitude of delicious dishes that's so much more than just your traditional holiday dinner.