BIENVENUE SUR LE BLOG DE DINDON CANADIEN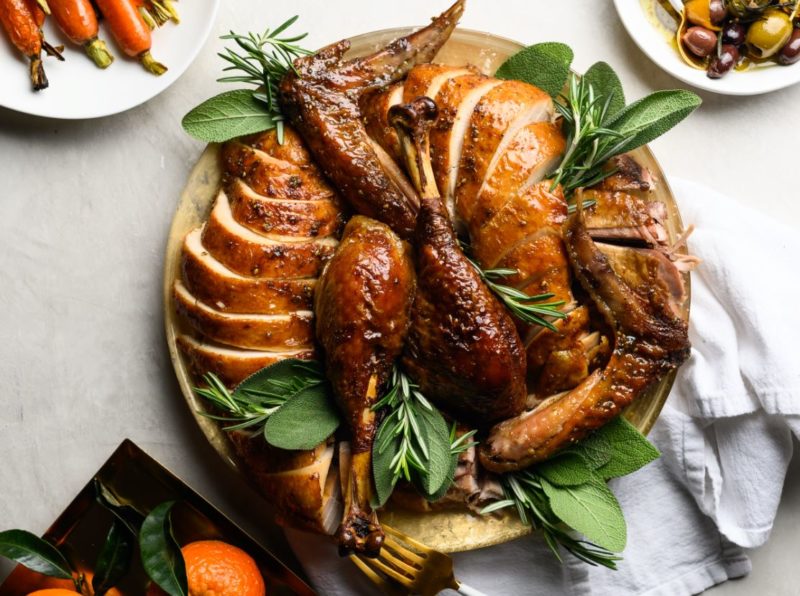 Need meal ideas? Turkey is here to help.
By Shannon Crocker MSc RD, Vibrant Nutrition Communications
Need meal ideas? Turkey is here to help.
This year, with social and physical distancing practices in place, your Easter will look a little different. That's okay. Your family can still enjoy the tradition of turkey and a sense of normalcy in these unprecedented times.
With the pressure of large family gatherings off, try something new like a Burnt Orange Glaze Roast Turkey or a Za'atar and Honey Glazed Roasted Turkey.
And with the leftovers could you:
Even if you're not celebrating Easter, the fact that most of us are at home right now presents a unique opportunity to be able to cook and enjoy a meal together.
Beyond tradition, here are three things I love about cooking a whole turkey:
It's a nourishing choice.
Eating a variety of nutrient-rich foods, including protein-packed turkey, gives you energy and provides your body with nutrients you need to support a healthy immune system.
Check out all the nutritional goodness that turkey provides here: Turkey Nutrition 101.
It's budget-friendly.
Nothing creates more meals than a turkey dinner. Make a plan for the leftovers so you can enjoy several meals and reduce food waste.
Since we're all limiting trips to the grocery store, make the most of the leftovers and what you've got in the pantry to make delicious sandwiches, pastas, casseroles, soups – you name it!
Hot tip: If you're new to roasting a whole turkey, give it a try! Watch this how-to video for the simple steps to a foolproof roasted turkey.
It's versatile.
Turkey fits with every cuisine and compliments so many different flavours exceptionally well. From Asian-inspired dishes to Indian cuisine, turkey works with your favourite recipes.
If you've got young kids, teens, or your partner home with you, get them involved in the kitchen too. Cooking together is a great way to keep all your household hands busy. Also, picky eaters are more likely to eat what they've helped prepare.
I hope you can find some joy in the kitchen during these extraordinary times.
Stay healthy and well,
Shannon