BIENVENUE SUR LE BLOG DE DINDON CANADIEN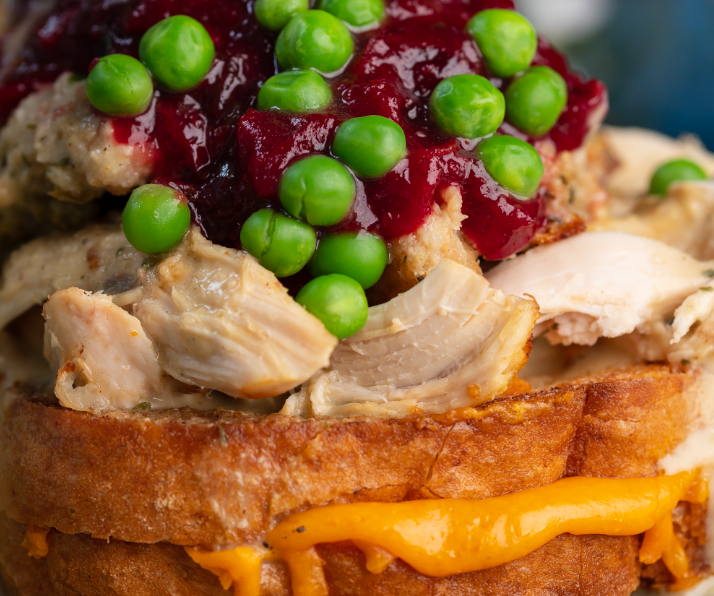 Jessica Emin's Ultimate Hot Turkey on a Grilled Cheese
What's one of the best things about Thanksgiving dinner, other than getting to spend time with family and friends? The delicious leftovers and the many ways you can incorporate them into your favourite dishes!
This Thanksgiving weekend why not try Jessica Emin (@eatwithjesse)'s Ultimate Hot Turkey on a Grilled Cheese Sandwich. With melty sharp cheese, leftover stuffing and turkey pieces, gravy, cranberry sauce and peas, this sandwich masterpiece is sure to be a hit!
Ultimate Hot Turkey on a Grilled Cheese
Serves: 1
Preparation time: 10 minutes
Cooking time: 5 minutes
Ingredients:
2 slices of soft white bread
2 Tbsp salted butter
½ cup sharp cows' cheese, or other meltable cheese, grated
150g of leftover turkey pieces, or enough to cover the top of a slice of bread
½ cup leftover dressing or stuffing (see below recipe for 'Rich Herb-y Homemade Boxed-style Dressing')
1/3 cup leftover turkey gravy
2 Tbsp leftover cranberry sauce
2 Tbsp leftover peas
Directions:
Place gravy is small saucepan and warm on low.
Place a large frying pan on medium-low heat and melt a few pats of butter. Place one slice of bread and move around to coat underside in butter. add grated cheese to the slice so that it is even to the edges and place the second slice on top.
Add the turkey to the side of the pan to warm it up, with a bit of butter, while making the grilled cheese.
Fry the sandwich until bread is golden brown and the cheese is melted. Tenting with a plate to create a bit of steam can help melt the cheese without burning your bread, so they are ready at the same time. Flip the sandwich and repeat.
Place the grilled cheese on a plate and layer with your leftover turkey dinner in this order: turkey, stuffing, gravy, cranberry sauce and peas.
Enjoy to the fullest.
—————————————————————
Rich Herb-y Homemade Boxed-style Dressing
Serves: 10
Preparation time: 30 minutes
Cooking time: 15 minutes
Ingredients:
10 slices of good, soft white bread
3 large yellow potatoes, boiled and cubed small
¾ cup butter
1 large white onion, or 2 cups, diced
1 cup diced celery
2 Tbsp dried summer savoury
1 Tbsp finely chopped rosemary
2 Tbsp thyme, de-stemmed
2 Tbsp finely chopped sage leaf
2 tsp coarse salt
1 tsp freshly ground pepper
1 ½ cups turkey stock, or vegetable stock
2 eggs
Directions:
Toast 10 slices of white bread to golden brown, in a toaster, and set on the counter to dry for 30 minutes or so.
In a frying pan on medium-high heat, brown onions and celery in 3/4 cup butter until lightly golden, 7-10 minutes.
Preheat oven to 400.
In a large mixing bowl tear toast into thumbnail sized pieces. Add potato cubes, all herbs and seasoning to the bowl, the pour the onion, celery and butter on top and fold with a rubber spatula. The mixture should not be smooth but not too lumpy either, more like half-mashed.
Whisk together stock and eggs, pour over dressing, fold thoroughly until everything is coated, but do not mash. Scoop the dressing into a lightly greased 12×16 baking pan. Do not smooth the edges or top, just spread the dressing so it can bake consistently. Not smoothing and having a rough texture on top will create more crispy bits.
Bake for 30 minutes at 400, or until crispy and golden brown on top. Remove from oven and turn over and toss with rubber spatula, then place back into the oven for 10 minutes, then 2-3 minutes on low broil. This will create more crispy bits throughout.
Serve and enjoy. It can keep for up to 2 days covered in the refrigerator and be reheated covered.