BIENVENUE SUR LE BLOG DE DINDON CANADIEN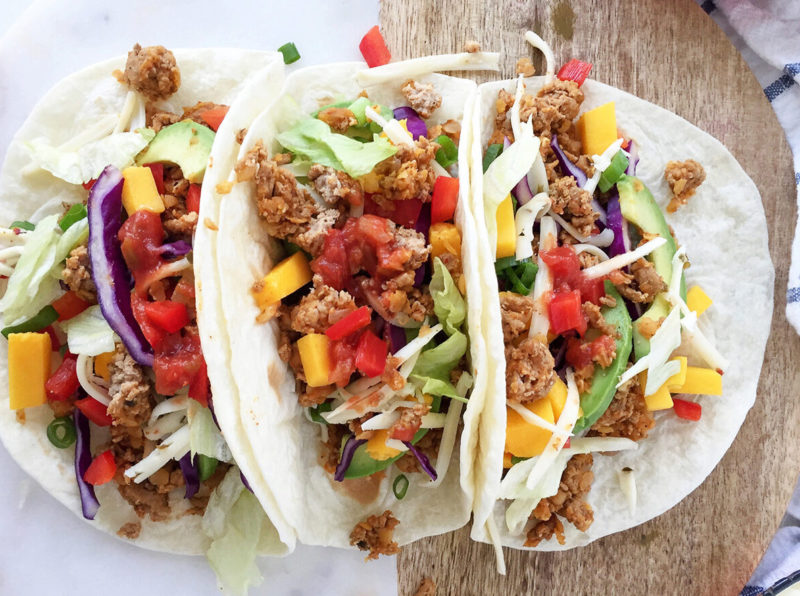 It's Easy Cooking with Canadian Turkey
By Shannon Crocker MSc RD, Vibrant Nutrition Communications
It's now been a while since social distancing began and we're collectively continuing to stay safe at home as much as we can.  That means we've all been cooking and eating at home, too. Maybe you're looking for some new and interesting, nutritious and delicious recipe inspiration? I know I am!
The good news is, even if you do have more time to get creative in the kitchen, you don't have to be a gourmet to create something fantastic. Sometimes the simplest of meals, made with basic ingredients you have on hand are the best.
Since we're all in this together, I thought I'd share eight easy-to-make turkey recipes for you to enjoy while you're cooking more at home. I've added some ingredient swaps too – get adventurous and experiment with what you've got on hand.
On your next grocery shopping trip (or online order) pick up extra turkey and freeze it so you've got turkey ready for these recipes. Or, cook a whole turkey and repurpose the leftovers for several additional meals throughout the week!
A Fun, Family-Friendly Snacking Recipe
Buffalo Turkey Dip – this dip is filled with tender shredded turkey and it's perfect for a family game night  alongside a big plate of fresh veggies for dipping.
Simple Swap: Plain yogurt has more nutritional value and can be substituted for sour cream.
Tastes Gourmet (but it's easy!)
Honey Dijon Turkey Thighs with Cauliflower – bursting with flavour, this easy recipe makes enough to ensure that you'll have leftover turkey on hand for additional meals. Remove the skin after cooking to keep it a lean dish.
Simple Swap: Frozen cauliflower can be used in place of fresh – it's terrific roasted!
Healthy Comfort Food for the Win!
Turkey and Beans Cacio-e-pepe – garlicky, lemony white beans are a perfect match for flavourful yet lean turkey thighs.
Simple Swap: No white beans? Use chickpeas instead.
For Pasta Lovers: Quick & Healthy!
Whole Grain Pasta with Turkey, Carrots and Spinach – filled with turkey and veggies, this recipe packs health-boosting nutrients into every delicious bite.
Simple swap: No whole wheat pasta? Use any pasta you have on hand. Frozen spinach (thawed and drained of excess water) can be used in place of fresh.
The Simplest Pantry Supper
Turkey Tortilla Soup – This tasty soup is budget-friendly, made with leftover turkey and pantry basics including jarred spices, canned tomatoes, canned black beans and canned corn.
Simple swap: No canned corn? Use frozen corn instead. Add the whole can of black beans for a bigger boost of fibre.
A Meal to Make with Kids
Turkey Lentil Tacos: Do-It-Yourself tacos are a fun activity that the whole family can do together. The turkey, lentils and veggie toppings make a better-for-you version than fast food tacos.
Simple swap: No lentils? Use canned black beans or chickpeas or diced mushrooms.
Rustic Sheet Pan Supper
Sheet Pan Citrus Turkey Thighs with Root Vegetables and Chickpeas – this rustic recipe is made with just one pan (better for clean up!) and will give you lots of leftovers to create a protein-packed power bowl for lunch the next day.
Simple Swap: If you don't have fresh herbs, use a sprinkle of the dried versions.
Fire up the Grill – it's Burger Time!
Grilled Turkey and Mushroom Pesto Burgers – adding onions and mushrooms to turkey burgers adds deliciousness and a nutrition boost – it's also a terrific way to extend your ground turkey.
Simple Swap: No pesto? Skip it! Add in a pinch of dried oregano if you wish.
I hope these recipes give you a little nourishing inspiration in the kitchen.
Also, a Happy Mother's Day to all Moms – you are the heroes of our homes!
Stay healthy and well,
Shannon