BIENVENUE SUR LE BLOG DE DINDON CANADIEN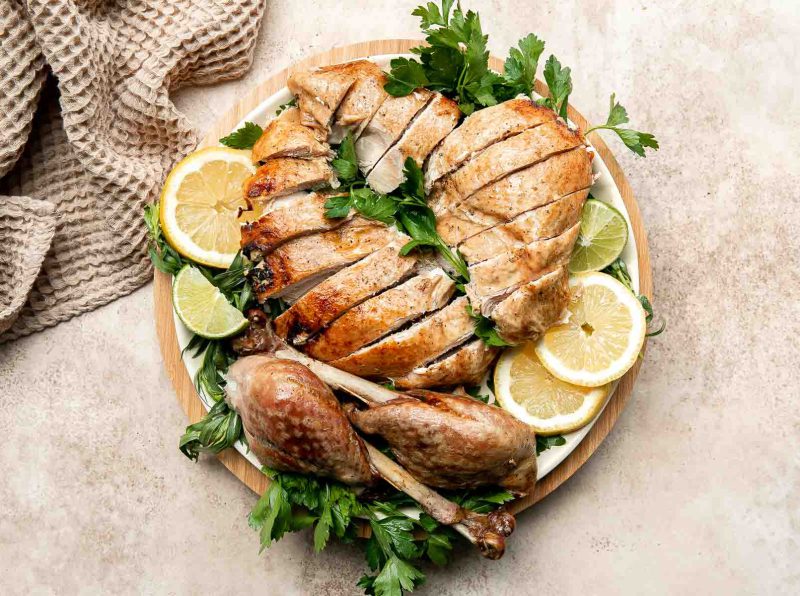 Five Tasty Turkey Recipes for Any Easter Celebration
One of the best reasons to choose turkey? Its versatility! From flavour pairings to cooking methods, there are so many delicious ways to enjoy turkey. Whether you're enjoying a cozy Easter dinner for two or cooking brunch for a crowd, there's always a turkey recipe perfect for the centre of your holiday table.
Here are five recipes that showcase turkey's versatility – which one will be on your Easter menu?
 Perfect for: Traditional Family Easter Dinner
If you're on "Team Traditional" then this one's for you! My family loves a whole-roasted turkey on Easter, and the familiar flavours in this apple honey glaze add a complimentary pop of sweetness. Pair it with honey-roasted carrots, pan-fried Brussels sprouts, and your favourite mashed potato recipe for a nourishing meal.
 Meal Prep Tip: Need some cooking tips for a whole bird? Canadian Turkey has everything you need from tips to thawing turkey, carving turkey, cooking times, and "how to" videos!
Neat to know: Gut-friendly fibre from veggies and high-quality protein from turkey make an amazing combo: together, they provide long-lasting satisfaction so you can stay energized.
Perfect for: The Busy Family Easter
Looking to reap the benefits of your time-saving Instant Pot? Then this whole turkey recipe is for you. With a quick broil at the end, you won't even miss out on that crispy skin. Keep things quick, easy, and balanced by serving it with a leafy green salad and barley pilaf.
 Meal Prep Tip: Did you know you can freeze leftover turkey? Slice or shred leftover turkey meat and freeze it in a freezer-safe airtight bag. Then thaw in the fridge and reheat for an easy protein option at meals, or toss it frozen into your go-to turkey soup recipe.
Perfect for: Easter Brunch with Friends and Bubbles
Easter is the perfect time to host an elegant brunch with friends, and this Lavender Honey Turkey is a must have addition to your menu. Seasoned with lavender, honey, and fresh herbs, this dish creates a luxurious pairing with a sparkling wine or alcohol-free sparkling cider. Serve it with lemony roasted potatoes and sauteed green beans.
 Meal Prep Tip: Cook up a bigger turkey so you can enjoy the leftovers all week; add turkey to salads, wraps, breakfast burritos and more!   
 Easy Grilled Spatchcock Turkey
 Perfect for: Spring Family Backyard Barbeque
Ready to break open the barbeque for the season? This Easy Grilled Spatchcock Turkey offers a grillable option fit for Easter. Using a Spatchcock technique, also referred to as flattening or butterflying your turkey, simply means you remove the backbone of the turkey. This allows you to flatten out the turkey for a quicker and more even cooking process while also freeing up precious oven space for side dishes. Serve it with a zesty cabbage salad and oven-baked potato wedges.
 Meal Prep Tip: Store your leftover barbecue turkey in an air-tight container in the fridge so you can add a grilled protein topping to pizza the next night!
Neat to know: All cuts of turkey are a lean protein choice. Keep the skin on the turkey when barbecuing to lock in moisture and remove the skin before you eat the turkey to keep it a lean choice.
 Herbed Butter Roast Turkey Breast
 Perfect for: A Quiet Easter Dinner for Two
Turkey isn't just for large gatherings. This lean Herbed Butter Roast Turkey Breast is great for a smaller celebration. With only 6 ingredients and some kitchen twine, this recipe is light on the prep but definitely not lacking in deliciousness.  Serve it with oven-roasted broccoli and sweet potatoes for a tasty dinner for two.
 Meal Prep Tip: Leftover turkey breast makes for a great addition to a Turkey Apple Sandwich or an Open-Faced Turkey Avocado Melt.
No matter what the occasion, there's a turkey dish sure to be enjoyed by all! Looking for more turkey meal inspiration and nutrition tips? Check out Canadian Turkey's monthly blog posts written by yours truly.
Happy Easter,
Shannon