BIENVENUE SUR LE BLOG DE DINDON CANADIEN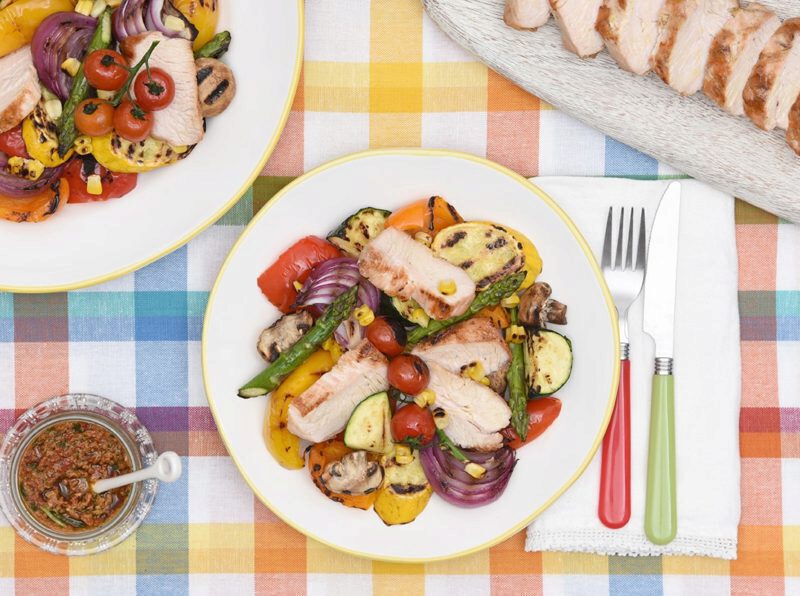 Five EASY, Crave-worthy Turkey Recipes You'll Love this BBQ Season
By Shannon Crocker MSc RD, Vibrant Nutrition Communications
Grilling season is FINALLY here!
When warm weather hits there's nothing better than a meal made on the grill that's enjoyed while relaxing on the patio. Relaxation aside, grilling is one of my favourite cooking methods.
Here's why:
Simplicity: You can create your entire meal on the grill easily and without a lot of pots and pans, clean-up is a breeze!
Healthfulness: You can cook all sorts of nourishing foods on the grill, including lots of veggies and lean, nutrient-rich turkey (even the dark meat is lean!). Cooking at home helps you to reduce your intake of highly processed, nutrient-poor foods that aren't great for your health.
Budget-friendliness: Grilling at home with basic ingredients saves you money (Eating grilled meals on a restaurant patio is expensive!!) You can grill a whole turkey and have enough meat for several meals for the week.
Cool factor: Cooking over fire is intriguing, so it's a neat way to get new cooks interested and to build cooking skills and confidence – for you and your kids too!
Turkey is a grilling go-to for my family – from burgers to kabobs to drumsticks and turkey steaks, its versatility keeps our summer BBQ meal rotation interesting.
As a dietitian, I love that it's super flavourful on its own, so you don't need to add a lot of salty ingredients to make it taste good. If you're new to grilling turkey, check out this handy chart for tips on methods and cooking times.
To get you started, I've pulled together five EASY, delicious recipes so you can get cooking with turkey on the grill.
Pineapple Turkey Kabobs. Kick-start kabob season with these crave-worthy kabobs. A little spicy, a little sweet, these kabobs are easy to assemble and a simple introduction to grilling turkey. Kids will have fun skewering the ingredients too!
Double up! Double this kabob recipe and enjoy the leftovers for lunches the next day. It saves you time making lunches and saves you money too since you won't be eating out.
Pomegranate Feta Burger. Turkey is a super swap for ground beef in burger recipes and this is a scrumptious example! The burger is made with feta cheese and is full of flavour on its own if you decide to keep it even simpler and skip the pomegranate sauce (but altogether it's incredibly yummy – give it a try!).
Grilled Turkey and Summer Vegetable Salad. A salad that is made entirely on the grill? Talk about easy cleanup! Any time you pair turkey and veggies, it's a good thing. It's tasty, but also, turkey and veggies create a dynamic nutrition duo on your plate: the iron and zinc in turkey help you to absorb those same nutrients in veggies.
Watch this video to see how easy you can get this salad onto your grill and then your plate!
Bold BBQ-Basted Turkey Thighs. Turkey thighs are fantastic on the grill – the dark meat is moist yet it's still a lean choice (when you remove the skin). Marinate the turkey thighs in the fridge overnight and they're ready to grill when you get home from work. Make extras and reinvent the leftovers into BBQ turkey sandwiches, salads or tacos.
Grilled Turkey Scaloppini with Dijon Sauce. In a hurry? Turkey scaloppini cook on the grill in under 10 minutes! Serve the scaloppini with a big bowl of packaged veggie slaw and some whole grain bread and dinner is ready in less than 20 minutes. Talk about convenience plus!
So, there you have it. Five easy recipes to get you started grilling with turkey this summer. Want more? Ask about available turkey cuts at the butcher or grocery store and find a grilling recipe that's right for you at Canadian Turkey – there are lots to choose from!
Happy Grilling Everyone!