BIENVENUE SUR LE BLOG DE DINDON CANADIEN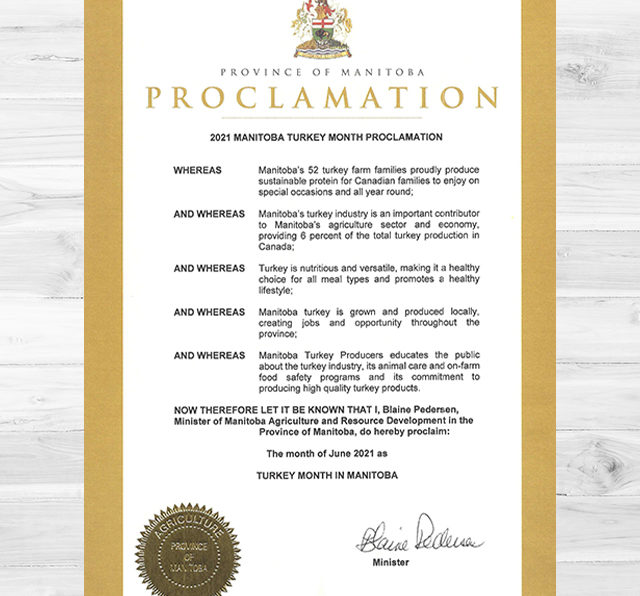 June 2021 is Turkey Month in Manitoba!
June has been declared as turkey month once again right here in Manitoba and that gives us Manitobans lots to celebrate. For the past 27 years, the proclamation, issued this year by the Honourable Blaine Pedersen, Minister of Agriculture & Resource Development, promotes the nutritional benefits of turkey, educates consumers about the industry and encourages the consumption of locally produced turkey all month long. The increased awareness of turkey as a result of this campaign has always been a success and this year is no different.
For 2021, you can celebrate and show your support to Manitoba farmers by learning something new about the Manitoba turkey industry and enjoying locally produced nutritious and delicious Manitoba turkey on your dinner table this summer.
Manitoba Turkey Industry
Manitoba's turkey industry currently has 52 family-run turkey farms. Our farmers have pride and take great care to ensure the humane treatment of their turkeys while providing safe, high-quality food to consumers. Turkeys in Manitoba are raised free-run – NOT kept in cages – in specially designed temperature-controlled barns that provide protection from predators, disease and bad weather. Turkeys are free to roam on floors that are covered with soft bedding.  A small portion of Manitoba's turkeys are raised free-range, which simply means that when weather permits, they go outside to pasture.
All turkeys grown by our farmers are NOT given hormones or steroids. These have been prohibited for over 30 years. Turkeys have unlimited access to food and water and are fed a nutritionally balanced diet of mixed grains and oilseeds, which typically includes corn, soya, wheat, barley and canola, for healthy growth and development. To learn more about the Manitoba turkey industry and how turkeys are raised, check out Turkey Farmers of Canada's website. Take a step inside a turkey barn with a 360° virtual tour of a Canadian turkey farm by clicking here.
Nutritional Benefits of Turkey
Turkey is a nutritional powerhouse! It's packed full of with immune-strengthening nutrients. For example, it is an excellent source of high-quality protein. It's recommended that you aim for about 20 to 30 grams of protein at each meal to help you feel energized and satisfied, build and maintain muscle, and to help manage a healthy weight. Each 100-gram serving of turkey has about 30 grams of high-quality protein, making turkey an excellent choice for your meal plans.
You may also be excited to find out that all turkey is considered lean or extra lean! Dark turkey meat cuts, such as drumsticks or thighs are lean, with just 8 grams of fat per 100-gram serving and white turkey meat, such as a turkey breast, is extra lean with just 3 grams of fat. Did you know that ground turkey is extra lean and has just over half the fat of lean ground beef? This makes turkey an ideal choice for all your ground recipes, including chilis, pastas, burgers and meatballs.
Enjoy Manitoba Turkey
Turkey is often thought of as the main dish on a dinner table during the holiday season, but did you know that turkey comes in a variety of cuts in your local or independent retailer across Manitoba year-round? In addition to whole turkeys, individual cuts of turkey such as breast, drumsticks, thighs, wings and ground turkey are readily available for purchase to incorporate into your weekly meal plans. Incorporating locally produced turkey into your weekly meal plans is easier than you think!
Need some help getting started with turkey on your dinner table? Don't worry, turkey is easy to prepare and there are dozens of recipes that are sure to leave your family wanting seconds. Ground turkey can be substituted in any recipe using ground meats and turkey cuts are always easily roasted, grilled, slow-cooked, air-fried, smoked, or even barbecued. Need some recipe inspiration for this summer? Find recipes, perfect for the grill, by clicking here. Want to know our favourites? Check them out below:
| | | | |
| --- | --- | --- | --- |
| | Grilled Herb Infused Turkey Pieces | Cornmeal Turkey Burger | Cajun Blackened Turkey Steaks |
| | Recipe | Recipe | Recipe |
Enjoy locally produced, nutritionally packed, Manitoba turkey this turkey month to show your support to our local farmers!