BIENVENUE SUR LE BLOG DE DINDON CANADIEN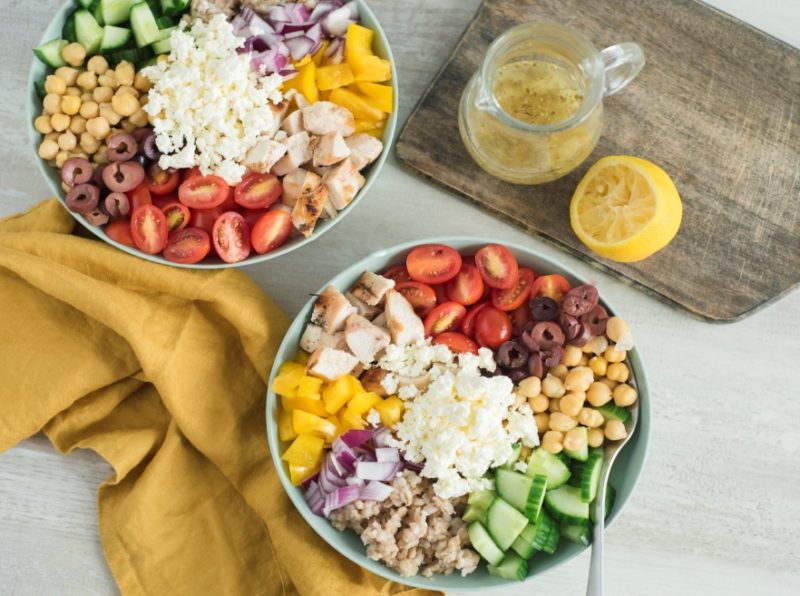 How to Create a Satisfying Salad Meal
By Shannon Crocker MSC RD PHEc
Maybe you grew up with the idea that salads are mostly lettuce with basic dressing. Maybe they were something to start your meal, or an addition to your summer barbecue table.
But I'm here to tell you: salads are so much more!
Salads can be full-on, stand-alone meals that are delicious, especially when you pair tasty turkey with a variety of veggies. Here's how to build a satisfying salad meal in four simple steps.
Summer Salad in 4 Simple Steps:
Fill half your plate with colourful vegetables (and fruit).
Give yourself some creative freedom when it comes to putting a produce-packed salad together:
Consider texture: add one or two things that add a texture surprise, like super-crunchy cabbage or slightly soft mango. Switch up your lettuce too: there are so many leafy greens that can change how your salad crunches.
Rely on colour and flavour to do the real work: add a little chunk of juicy red watermelon, a burst of tanginess from vibrant blueberries, or a pop of sweetness from fresh summer carrots (they come in many natural colours other than orange).
Planet-friendly tip: That one leftover carrot? The half an onion? The last apple? Use up all those last bits of veggies and fruits in the fridge; they are as good for you as they were when you bought the batch of them. And the bonus? Using those odds and ends reduces food waste and saves you money (wasted food is wasted money!).
Power up your plate with protein.
Protein is the key to taking salad from side dish to satisfying meal. I like to mix and match protein-containing foods on my salad plate to get a good variety of nutrients.
For salads, I'll start with turkey (of course!) – and hey, it's summer so let's get grilling!
Grilled turkey is one of this dietitian's top salad protein choices – it's lean, nutrient-packed, and flavourful, so you don't need to add a lot of salty ingredients to make it tasty.
There are lots of interesting ways to top your salad with turkey. Try quick cooking turkey skewers or mini turkey burger patties.
Once you've got your turkey situated on your salad, add another protein choice to give you different flavours and nutrients:
Legumes, like chickpeas, lentils, black beans, or edamame, fill you with antioxidants as well as gut- and heart-friendly fibre.
A hard cooked egg is for more than just the traditional Cobb salad; and make sure to eat the yolk – that's where almost all the nutrients are – like choline for brain health.
Nuts or seeds provide crunch along with heart healthy fats that help your body absorb some of the nutrients in the veggies, like vitamins A and E.
Good to Know: Turkey is an excellent source of protein. Along with a variety of nutrients (like niacin, which converts the food you eat into usable energy for your body), each 100-gram serving has about 30 grams of hunger-crushing protein.
Consider some carbs: add whole grains or starchy veggies.
Whole grains and/or starchy veggies provide fibre along with a variety of vitamins and minerals and can make a meal salad heartier.
Whole grains: Try barley, brown rice, quinoa, or farro.
Starchy veggies: Try potatoes, sweet potatoes, parsnips, or squash.
Cool tip: Cook a batch of whole grains and roast starchy veggies on the weekend and refrigerate so you've got some ready to add to salads during the week. Cooked grains and roasted veggies keep in the fridge for about 4 days.
Drizzle a dynamite dressing (it makes the difference!).
Turkey pairs perfectly with flavours across all cuisines – try dressings inspired by the seasonings in Greek, Indian, Middle Eastern, Caribbean, and Asian cuisines – just to name a few!
Or keep it simple and add a dollop of blue cheese dressing. It's your salad – enjoy it however you want.
Need some salad inspo? Dig into some of these:
Grilled Turkey and Summer Vegetable Salad. A salad that is made entirely on the grill? Talk about easy cleanup! Watch this video to see how easy you can get this salad onto your grill and then your plate.
Turkey Niçoise Salad with Sundried Tomato Dressing. If you want something different from a leafy green salad, this is for you! Featuring summer new potatoes, green beans and corn topped with grilled turkey scallopini, it's a whole new level of delicious!
Smoky Citrus Taco Salad.  This salad is bursting with flavour! Turkey is marinated in a citrusy marinade with chipotle pepper. It's grilled and added to a crunchy broccoli slaw salad and finished with a creamy avocado dressing. You'll want to make this salad on the regular!
Mediterranean-Inspired Turkey Nourish Bowl with Lemony Vinaigrette. This energizing meal is loaded with veggies, chickpeas, barley, and lean turkey, while the lemony vinaigrette packs a flavourful punch. Get ready for a newfound appreciation for healthy eating.
Happy Salad Season,
Shannon