BIENVENUE SUR LE BLOG DE DINDON CANADIEN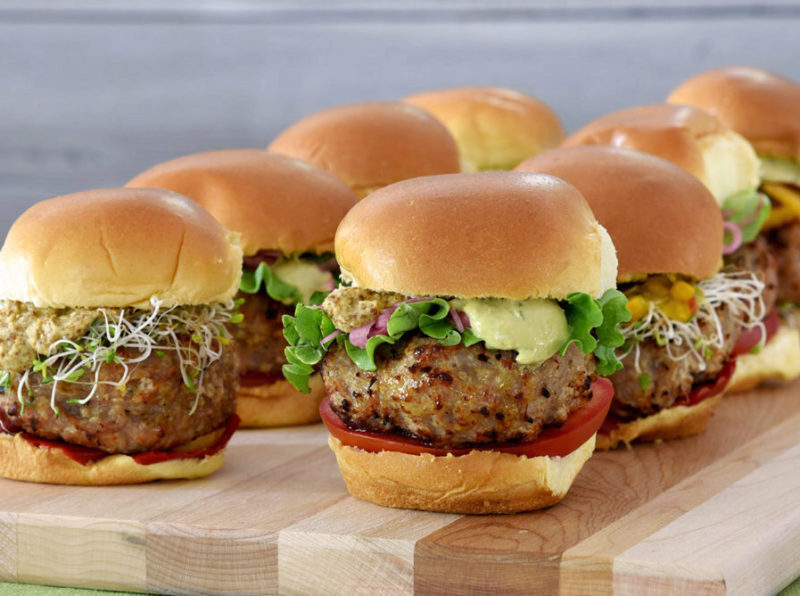 Ground Turkey: Think Outside the Burger Bun!
By Shannon Crocker MSc RD, Vibrant Nutrition Communications
What do you think of when you think about cooking ground turkey on the barbeque? If I was a betting gal, I'd say burgers. Me too!
You can't beat the simplicity of burgers – they're super for a quick, easy-to-make meal. I love to use ground turkey for better burgers; turkey is versatile and has great flavour so it needs little in the way of seasoning to make a really tasty burger.
Nutritionally speaking, ground turkey has a lot to brag about.
As a dietitian, I choose ground turkey because its nutrient-rich and packed with hunger-satisfying protein, making it an ideal choice to create balanced meals. Of course, we need more nutrition than protein, and ground turkey delivers:
It's is extra lean yet still moist, making it ideal for the barbeque.
It's a source of iron – a nutrient you need to shuttle oxygen to all the cells in your body, helping you to stay energized.
It's an excellent source of zinc – you need zinc to keep your immune system strong and functioning at its best.
It's also an excellent source of vitamin B12 – this is a nutrient that really catches my attention. Vitamin B12 is only naturally found in animal products, like turkey, eggs and milk. It's also added to some processed fortified foods (e.g. soy beverage). Your body needs vitamin B12 to make healthy blood cells and to keep your nervous system working properly (and that includes your brain).
Use ground turkey to create crave-worthy burgers.
Canadian Turkey has so many delicious burger recipes that you could probably try a new turkey burger each week of the summer. (I'm up for that challenge, are you?!)
Here are five crave-worthy burger recipes that highlight just how well turkey pairs with various flavours:
Turkey burgers are terrific – but think outside the bun!
I know we can all agree that turkey burgers are tops, but there's so much more you can do with ground turkey on the barbecue. Here are a few ideas to get you thinking beyond that burger:
Meatballs: When you think about it, meatballs are just burgers in a different shape. So, why not barbecue them? Skewer the meatballs or put them in a grilling basket so they don't fall through the grate. I can't wait to try this meatball recipe on the BBQ:
Stuffed Peppers: Stuffed peppers are a meal-in-one that can be easily cooked in a pan on the barbecue instead of the oven – and that helps keep your kitchen cool too.
Swap ground turkey into your favourite stuffed pepper recipe. Don't have a favourite stuffed pepper recipe? Try this one (works with portobello mushrooms too!):
Pizza: Pizza is perfect for the barbecue and it's way better than take out. Cook the ground turkey in a pan on the stove, add it to your prepared pizza crust or flatbread with cheese and veggie toppings and grill the pizza on the barbecue (low heat). Your family will love this one:
The next time you fire up the barbecue, Think Turkey! Check out all the ground turkey recipes that Canadian Turkey has and think about how you could make them on the 'cue.
Happy Grilling!
* Ground Turkey has 8.7 grams of fat per 100 gram serving. Source : Canadian Nutrient File v 2105.