BIENVENUE SUR LE BLOG DE DINDON CANADIEN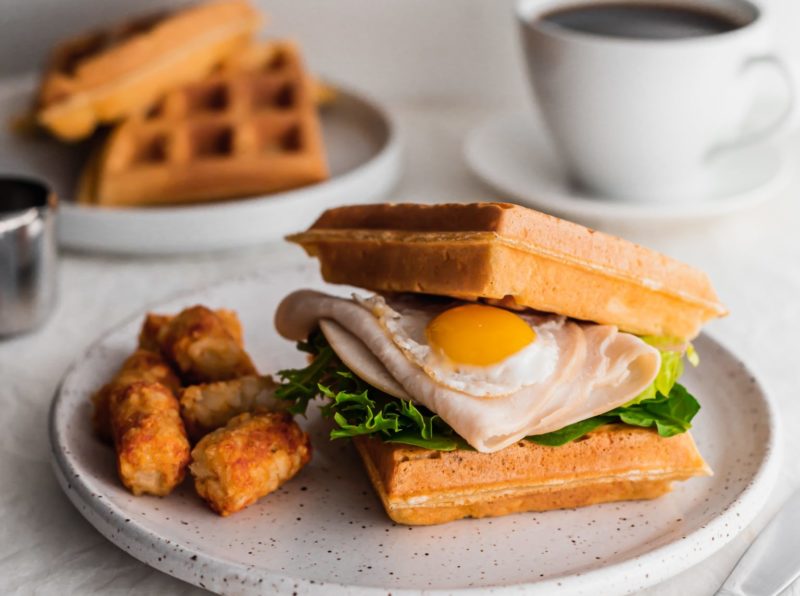 Five Tasty Turkey Brunch Menus
If you love brunch like me, this post is for you. Easter brunch can be as simple as turkey n' waffle sandwiches or as elegant as a roast turkey dinner. And it always includes chocolate eggs, so what's not to love?!
Whatever your style of brunch, there's a turkey recipe that will meet your needs.
Elegant Whole Roast Turkey Brunch Menu
A whole roasted turkey is a traditional Easter menu item for many Canadians – and it's not just for Easter dinner. A whole turkey can be the star of your brunch table too.
Seasoned with lemon, garlic, and fresh herbs, this Lemony Herb Whole Roasted Turkey is perfect for an elegant spring brunch.
Serve with: Scallop potatoes, roasted carrots, and a green veggie like sauteed brussels sprouts.
Meal Prep Tip: Plan for leftovers by buying a bigger turkey.  Freeze meal-size portions of leftover turkey meat and use as a meal starter for busy weeknights. Great for sandwiches, soup, pizza, frittatas, salads and more!
Delicious Turkey Brunch for Two Menu
If you're setting your Easter brunch table for two – I've got you covered. How about a roasted turkey breast? You'll even get those coveted leftovers so you can make sandwiches or salads a couple times the next week.
This Herbed Butter Roast Turkey Breast recipe has only six ingredients and is super simple to make.
Serve with: A platter of roasted vegetables and a brown rice or barley pilaf.
Meal Prep Tip: leave the skin on to lock in the flavour and juices; take the skin off before eating to keep turkey a lean choice.
Super Simple Turkey Scallopini Brunch Menu
If you don't have a lot of time to prep a brunch meal, but still want something special, this Grilled Turkey Scallopini with Dijon Sauce is for you. It's easy and quick to make but elegant enough for your brunch table. The tangy dressing pairs perfectly with the turkey.
Serve with: Sautéed green beans (frozen are a good choice now when beans aren't in season) and cherry tomatoes. Make extra marinade to use as a salad dressing drizzle. A side of roasted potato wedges would be tasty too.
Meal Prep Tip: Make extra turkey scallopini so you can make these Grilled Turkey Scallopini Sandwiches with Pickled Vegetables during the week.
Traditional Egg-y Brunch Menu
If you think eggs are a must for a brunch menu, you can still enjoy your turkey too! Eggs are a delicious partner for turkey in quiches and frittatas.
Turkey thighs would be fantastic in this Turkey Red Pepper and Cheddar Quiche. Dark turkey meat is a lean choice and even more rich in zinc than white meat. Zinc is a nutrient we need for a healthy immune system and dark turkey meat is an excellent source (per 100 gram serving).
Serve with: A leafy green salad. Since you're cooking turkey for the quiche, why not top your salad with turkey too. This Sweet and Savoury Turkey Salad would be terrific with the quiche.
Meal prep tip: save time on Easter morning by cooking your turkey breast or thighs up to three days ahead so it's ready to add into your quiche or frittata.
Just for Fun Turkey n' Waffles Brunch Bar Menu
Kids and adults alike will love this fun twist on turkey sandwiches: a Do-It-Yourself meal featuring waffles and turkey, so they build their own sandwiches with toppings they love.
It's easy to create a turkey n' waffle brunch bar. Just put out all the ingredients to build turkey sandwiches but with waffles instead. Here are two scrumptious recipes for turkey n' waffles for inspiration: Turkey Waffle Sandwich and Turkey Waffles with Hot Honey Butter.
Serve with: Fruit salad or a platter of fresh fruit.
Meal prep tip: Cook this Herb Turkey Roast so you've got roasted turkey to add to your waffles in place of deli slices or fried turkey in the two recipes above.
Wishing you and your family a Happy Easter,
Shannon