BIENVENUE SUR LE BLOG DE DINDON CANADIEN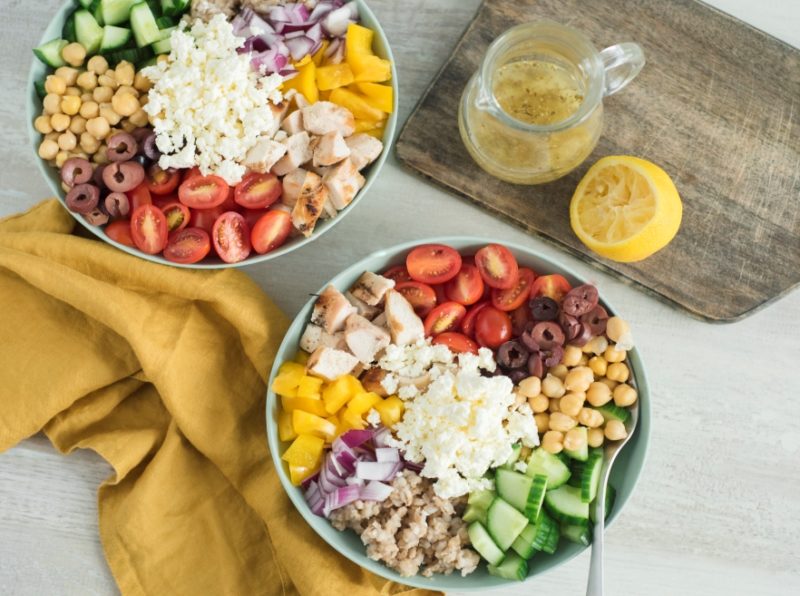 5 Easy, Healthy and Tasty Grilled Turkey Summer Salads
By Shannon Crocker MSC RD PHEc
If you're looking for something easy, healthy and tasty to enjoy outside on the patio, balcony or picnic blanket, grilled turkey salads are it!
Turkey is perfect for grilling.
Turkey is perfect for the barbecue because it's a versatile, delicious and nutritious choice. You can grill it, smoke it, sear it, or cook it on the rotisserie.  All types of turkey are barbecue-friendly – whole turkey, thighs, drums, wings, breasts, and of course ground turkey. (ground turkey makes the best burgers!)
Top tips for grilling turkey:
Grill turkey with the skin on – that helps lock in the flavour and juiciness – and remove the skin before eating to keep it a leaner choice.
Marinate with your favourite marinade combo. Turkey is flavourful on its own, but also matches with ingredients across all cuisines – try Greek, Indian and Italian-inspired marinades – just to name a few!
Cook turkey on medium low heat (helps avoid any flare-ups if you've kept the skin on).
In a hurry? Try kabobs – cut turkey into small 1-inch pieces for quick and even cooking.
 Grilled turkey and veggies power up your salad plate together.
Grilled turkey and veggies taste terrific together. Plus, each offer their own unique package of nutrients for good health.
Together, these two nutrient-rich powerhouses boost the good-for-you value of your salad. The fibre from veggies and the protein from turkey help you to stay energized and satisfied. Plus, the iron and zinc in protein-rich turkey helps you better absorb the same nutrients in veggies. That's why I call turkey and veggies a dynamic duo!
Here are five grilled salads that are a must-have for your summer menus:
You might not be able to travel yet, but this salad will take your tastebuds to Italy! Grilled turkey, juicy cherry tomatoes, basil and fresh, creamy fior di latte come together to create a flavour combo that is out of this world! A simple salad for an easy Father's Day backyard or balcony lunch.
Cold Turkey Broccoli and Tahini Salad
If you like pasta salad, you will love this tasty twist! Ideal for a hot summer day, this salad can be made ahead so you can enjoy more relaxation time outside. Add leftover grilled turkey breast or thighs to a mix of pasta, broccoli, green beans and tomatoes and toss with the tangy tahini dressing.
Take your usual Caesar salad from okay to AMAZING by adding grilled turkey breast. While you can chill the grilled turkey, I think this salad would be super scrumptious made with warm, freshly grilled turkey added to the romaine just before serving.
Mediterranean Turkey Nourish Bowl with Lemony Vinaigrette  
Nourish bowls are my go-to for quick and simple summer meals. This bowl is an energizing powerhouse loaded with veggies, chickpeas, barley and turkey. Instead of leftover turkey, top this nourish bolw with a grilled turkey kabob. A grilled lemon garlic turkey skewer made with turkey breast is my choice to complete this nourish bowl.
Thai Glazed Grilled Turkey Salad
My mouth is watering just thinking about this Thai glazed grilled turkey salad. Fresh flavours from ginger, garlic, chilis and lime juice work with crisp veggies and grilled turkey to create a flavour explosion. I could eat this salad on repeat all summer long!
Happy Turkey Month and Happy Father's Day to all the Dads out there!
Shannon